1. The league will take, make and miss more three's than ever before.
Duh right?! I've been keeping track of this though and I expect the progression to be pretty linear. Exact prediction below in RED. With more bigs shooting 3's though, we'll see more bricks, and the overall 3pt percentage will drop for the 3rd straight year. At what point will percentage made not be worth the increase of points added from 3's? I don't know, but at some point it will tip back the other way. Rest assured we have several more years of the league shooting more three pointers.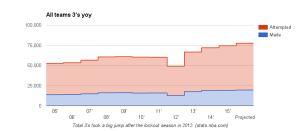 2. Stephen Curry will lead the lead in 3's made

Again, I know this isn't a very bold prediction. However! I'll give you exact numbers based on his recent data. He should absolutely keep the crown for a 4th straight year if he stays healthy.
I think Steph will shoot more 3's. About 4% more based on his production over the last 3 years. I also think he'll shoot a slightly worse percentage based on trends the last three years. My guess is just under 44% (still amazing). Exact prediction below.

3. Klay Thompson, JJ Redick, Kyrie Irving or Kyle Korver will challenge Steph for 3pt title, get really close, but still lose.
Klay Thompson:
Will come in second again. Teams will continue to fall into the trap of giving more attention to the reigning MVP and allowing Klay to get open catch and shoot 3's. How do you defend this team?
JJ Redick:
JJ has a shot at challenging Steph, the clips have really figured out how to get him good looks and he had the best year of his career last year. However, if Stevenson or Crawford have bounce back years they could steal minutes from him. Which would obviously hurt his production.
Kyle Korver:
According to my data Korver just needs to shoot more! ATL's offensive is designed to get him open looks but because he can't create his own shot he may be capped on 3's. We'll see, they need him to get buckets to compete.
Kyrie Irving:
Kyrie is an underrated 3pt shooter. He can do so much and I don't think people realize how good he is from deep. The Cavs need to figure out a way to get him going more often from deep. This is of course a challenge because he likes to drive and LeBron needs the ball. This team should be a lot different from last year though with the time to gel.
As Always, I'll be keeping track of the three point race this year and providing insights along the way. See last years interactive data visualization here, gif below.