I'm a big fan of Ben Alamar and his stats team over at ESPN. But good god that guy is not a copywriter. This is Ben/team's introduction of their awesome new predictive metric FPI for the NFL.
Below are the first Football Power Index rankings for the 2015 NFL season. For a full explanation on how the FPI is put together, please read this explainer. For more background, you can also read this Q&A with the developers of the FPI.
Fuck yea! Right?! Excited….. ?
Ok well the stat is really cool and you should take notice. I just finished Ben's book and the dude is a data savant. His approach is top notch and he wouldn't create a predictive stat just to do it. So I'm very excited about the metric and the advantage it might give me in my pick-em league.
But I do have one big issue - the data is in a table - and well, that's not fun.
So I made the data move and once they Ben and team standardize how they format defensive and offensive predictions I'll display it in a better format. My graph charts a teams FPI over time and allows you to easily compare it to a competitor. It's all done in a Google Sheet which you can see here.
Gifs below for this week's close matchups.
Ravens @ Steelers (-2.5)
http://www.gfycat.com/OldfashionedInfatuatedBackswimmer
According to the FPI it's a toss up. What's interesting is that the Ravens are still so high after losing first three games. Trends don't really say much here, big thing is that Big Ben is down. I'm going Ravens.
New York (NYJ) (-1.0) @ Miami (London)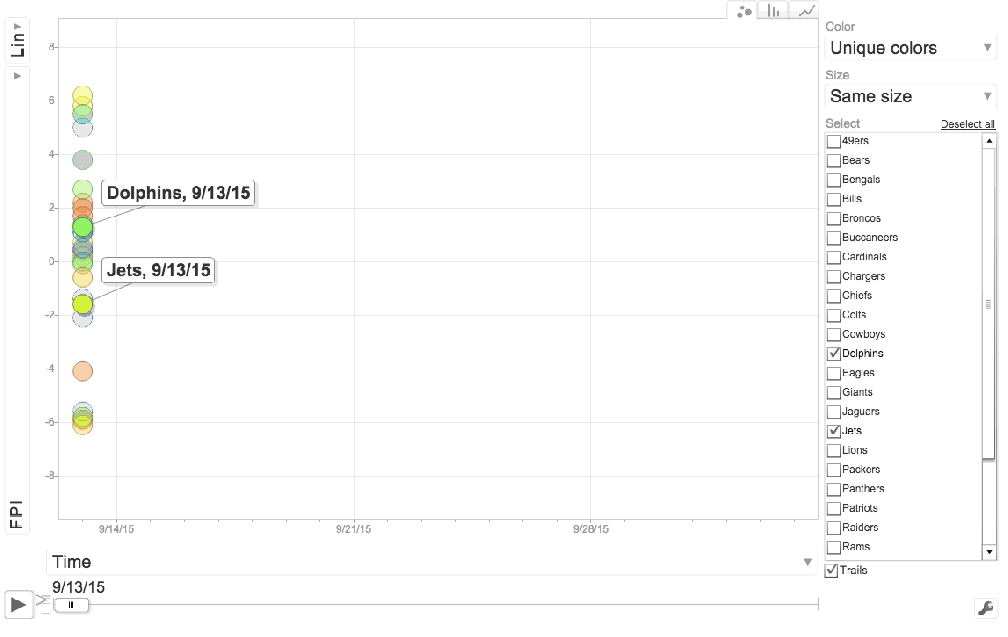 http://www.gfycat.com/WealthyAdorableChanticleer
This one's much more interesting. The Jets have been overperforming and the FPI has recognized this and their number has increased. I feel like the line setters are sleeping on the Jets a bit still and because there is no home field advantage, I think they'll cover.
Oakland (-2.5) @ Chicago
http://www.gfycat.com/SerpentineExemplaryKittiwake
The toss up this week is between the Bears and Oakland. The FPI has them neck and neck. I'm a little bit surprised that the Bears are getting points at home but based on their free fall lately I think people have really lowered their expectations. It look like Cutler and Jeffrey are going to be back for the Bears this week though so I give them the edge to cover.
As always you can access all of this information in the interactive visualization below. I'll add offensive and defensive projections once ESPN standardizes their data. So stay tuned.
https://docs.google.com/spreadsheets/d/1B_Iit7vNzBJe9y7nuPS6E2PqxNWA3GIQDRikAjFONQo/pubchart?oid=187631846&format=interactive
[googleapps domain="docs" dir="spreadsheets/d/1B_Iit7vNzBJe9y7nuPS6E2PqxNWA3GIQDRikAjFONQo/pubchart" query="oid=187631846&format=interactive" width="1040" height="643" /]
Marcus