Three pointers are worth more than two pointers. This breath taking realization has been the focus of the NBA for the last few years. Since the 2011-2012 lockout teams are taking and making more three's at about the same percentage made.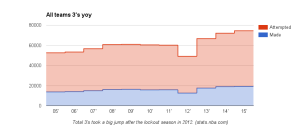 The teams that really embrace this ethos and the advanced analytics that support it are taking more 3's, less long 2's and more free throws and apparently cashing in. The Rockets have two superstars but they also have a system. Rocketball has helped propel the team to great regular seasons.
To better understand, chart and analyze the best three point shooters in the league I've built a visual representation of three point shooters data over the course of the season. All data has been scraped from Espn.com/nba/statistics each weekish using a KimonoLabs API. All data is kept in this Google spreadsheet and graphed using a Motion Chart through Google sheets.
The result is this interactive chart of the top shooters. Click on a dot to track that player. As players jump into the top 10-15 they may pop in and as they fall out they may pop out. The following is my analysis of the seasons best three point shooters. The ranking is my personal opinion based on the data.
https://docs.google.com/spreadsheets/d/13PUkfSpGfCUYBPifmfUpKISI1iHqxBWe1Pco2LZkCtc/pubchart?oid=1468071434&format=interactive
Vertical access = 3pt % made
Horizontal access = Total 3's made
Size of the bubble = Total 3's attempted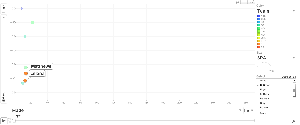 http://www.gfycat.com/CornyDirectFawn#?format=gif
Honorable Mentions: Danny Green - 191/457 .418%
Brilliant season from behind the arc for Danny. He shot a consistently high percentage, stayed healthy and finished strong. There were some weeks where he didn't take as many shots as maybe he should have but who's going to question Pop?
Damian Lillard - 196/572 .343% and Wesley Matthews - 173/445 .389% The Rip City boys dominated the NBA in 3pt shooter through January. It looked like they would have a better combined season than their Golden State counterparts. Then Big Game Dame fell off a cliff for two months and Wes blew out his knee. Lillard made a comeback but the effects have been obvious for Portland since losing Mathews. They miss maybe the best 3 and D guy in the league (prior to injury anyway). Hopefully Matthews will bounce back.
James Harden - 208/555 .375%
The Rockets take a ton of threes and James harden fits into their scheme very well. Over the last three years he's ranked 5th, 11th and 3rd in 3 point attempts. Harden, like most Rockets, has a permanent green light from behind the arc. Harden had an amazing season shooting the three but it didn't start off that way. Around the end of December The Beard and his pal Trevor Ariza were shooting terribly. They had both taken close to 200 3's each and were both hovering around 33% made. From there Harden took off, his percentage climbed until a rough patch in March. He didn't quite get to an elite percentage of 3's made but considering everything else Harden does and the attention he gets, he was remarkably consistent and effective from behind the arc.
J.J. Redick - 200/458 .437%
There were a lot of first this year for J.J. at the ripe young age of 30. This was his first season starting more than 35 games, he started 78. It was also the first time he has taken more than 451 threes, he took 458 and it was the first time he made 200 threes, his previous high was 165. The thing is, he should have had a better season. At the end of January through early February J.J. missed time and his percentage slumped. He did bounce back and is hot going into the playoffs. These catch and shoot guys seem to get better with age, which makes this next dude really scary.
Klay Thompson - 239/545 .439%
Klay has had a ridiculously efficient season even for him. His 3pt % this year is up .18 over last year (.417) and it never dropped below .425 during the course of the season. He absolutely annihilated a couple of teams by himself this season including an 11-15 3pt performance against Sacramento, when he went for 37 points in a quarter. Klay can be a little streaky and had some 1-9 nights from behind the arc, otherwise he might be first on this list. I wouldn't be surprised at all if he leads the league in 3's made a least once in the next 5 years.
Kyle Korver - 221/449 .492%
During the 04-05' season, Korver led the league in 3's. That year he made 226 3's on 40.5%. 10 years later the man is once again the best pure 3pt shooter in the league. I think it goes to show Kyle's always been lights out efficient but props to Coach Bud for really figuring him out and cutting him loose. As you can see Korver started his year shooting an unreal 60% on 3's and slowly came down to a ridiculous 50% just missing 50/50/90 splits. I'm not sure why this happened, perhaps teams figured him out a little? He lost some confidence? Or maybe he just set the bar so high at the beginning of the season things had to average out. Would love to hear some theories. Click on dis for more Korver gushing.
Steph Curry - 286/646 .443%
When I started this I didn't exactly understand what Steph has been doing or how good he is. You can see that the first two months of the season he was good but not great. Around the end of December however, Curry just stopped missing shots. His bubble never dips, it's all up and to the right. He has the reputation of the being the best heat check guy in the league and he is but he's not a roller coaster like other bunch scorers. I can't overstate how amazing it is that he was so consistent at the volume of 3's he jacks up every night. This isn't his first season doing this of course.
| | | | | |
| --- | --- | --- | --- | --- |
| Year | 3's Made | 3's Attempted | Percentage | |
| 13' | 272 | 600 | 45.33% | Stephen Curry, PG |
| 14' | 261 | 615 | 42.44% | Stephen Curry, PG |
| 15' | 286 | 646 | 44.30% | Stephen Curry, PG |
This is Curry's third year in a row leading the league in treys. He is a glitch in the system (get Lowe) and the reason why skinny dudes who can shoot and not do much else will start going way higher in the draft then they should. Guys like Curry often stay healthier (knock on wood) and are more effective as they age (J.J. - Korver) so I'd bet the house that he'll go down in history as the best three point shooter ever. In a league that has historically undervalued the 3 Curry is an oracle. He has redefined how teams approach shooting and will serve as a blueprint for how to win in the future. I'll do this again next year with some tweaks to the visualization.